5 Year Diabetes Trend per 1,000 patients
for Employers With Catapult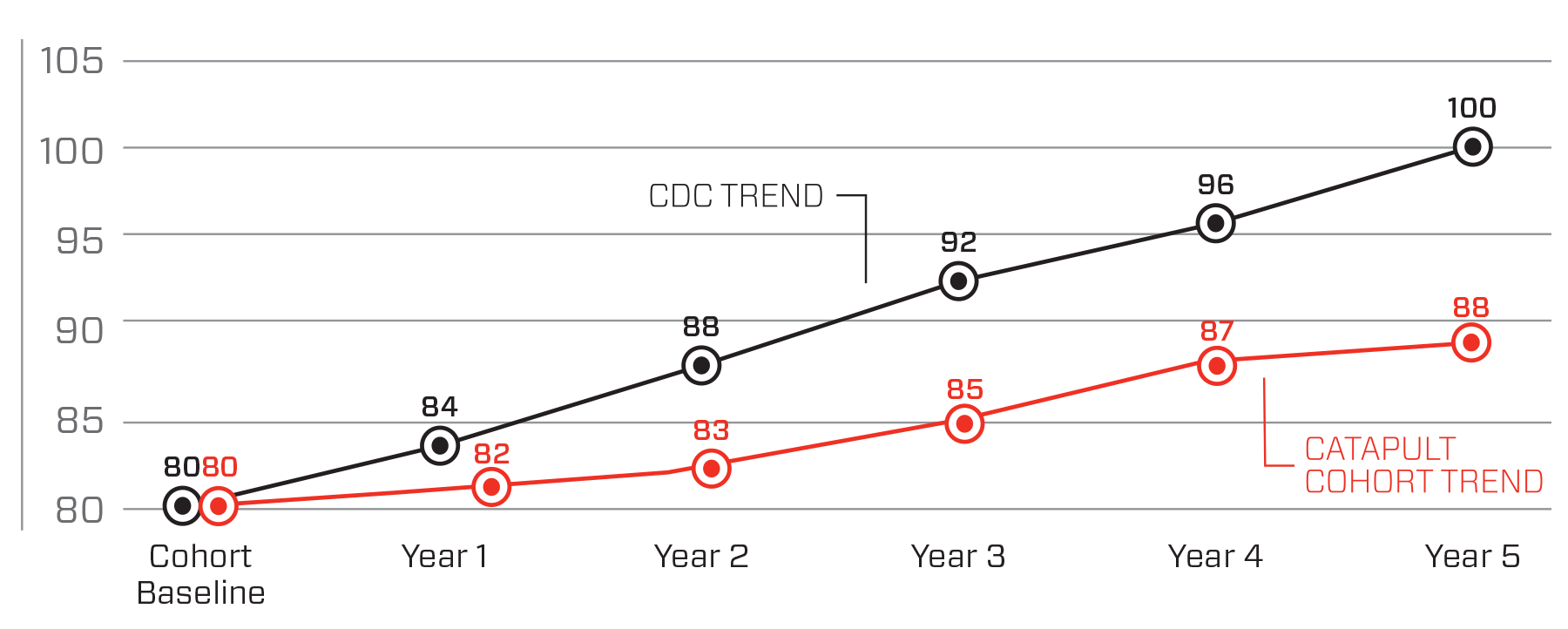 Healthcare's Early Warning System
As a business leader, you know that too many employees and their dependents suffer from one or more chronic medical conditions.  These conditions negatively affect their lives, your company's productivity and your bottom line. Unfortunately, far too many are needlessly suffering because they are unaware that they have a condition or are on the cusp of having a condition. At a time when employees are being asked to do more in terms of managing their health, they need to know what they are facing.
According to the Centers for Control and Prevention (CDC):
28% of those with diabetes – don't know it
89% of those with prediabetes – don't know it
53% of those with hypertension – don't know it
Most of those with a variety of cholesterol-related issues – don't know it
In business, challenges can't be addressed until there is an awareness of the challenge. The same is true for our health.
Managing a health-related condition starts with an early and accurate assessment of health status, and this is precisely what Catapult Health delivers.  Catapult is healthcare's early warning system. 
Identifying and treating the risk factors for diabetes, hypertension and heart disease reduces the volume and seriousness of medical claims.  We make it simple and convenient for patients to find out what's going on inside their bodies, to understand the consequences of their health decisions and to get the appropriate medical treatment from local healthcare providers.
Case In Point.
A south Texas client with several thousand employees just completed their third year of Catapult Checkups. Their documented health risk improvements have been remarkable:
23% reduction in Metabolic Syndrome
32% reduction in Pre-Diabetes
76% reduction in Severe Hypertension
28% improvement in their employees having a local Primary Care Provider.
Additional Financial Benefits of Catapult's Solution
No extra budget dollars needed – as a heath care Provider, we simply file medical claims with your health plan. We're already in your budget.
No start up fees – claims are submitted after we deliver the service, not before
No PEPM or other charges for those who don't receive a checkup – no checkup, no fee
No long term contractual commitment – if we don't deliver the goods, show us the door
No geographic limitations – anywhere in the U.S., and at no additional cost